Explore open spaces
Built to adapt with comfort in mind.
The CR-V has been re-designed with smooth flowing lines that never fail to grab attention. We've created an interior that's impressive too; one that surrounds you with a luxurious, airy feel with ample legroom for everyone. Every journey is a pleasure and if you need the extra space to carry those large, awkward items the CR-V has the capacity to do it.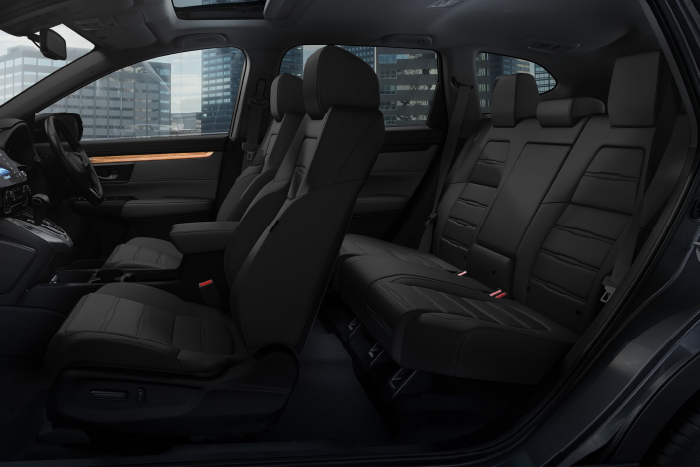 ADVENTURE READY
Tuned for the open road.
Be it near or far, big or small, the Honda CR-V has the right mix of power and efficiency to fuel all of your adventures. While the advanced turbocharged engine and enhanced handling capabilities will ignite your sense of adventure straight away, the AWD system makes it a versatile SUV capable of getting you into, or out of, any unforeseen situations that may come your way.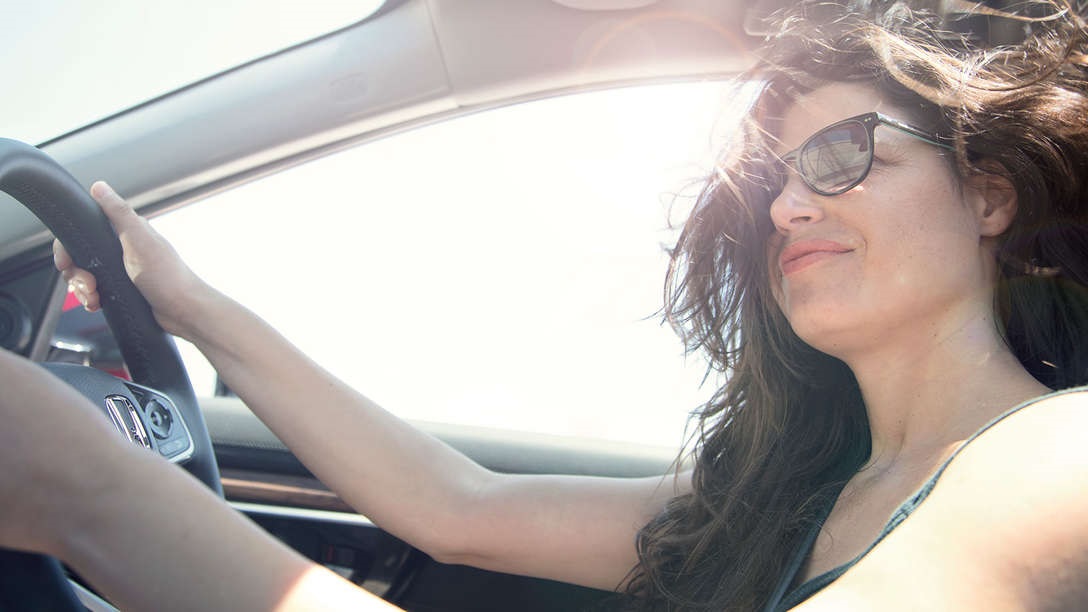 TOP SCORE FOR SAFETY
Our new CR-V has been awarded a maximum 5-star rating in the latest Euro NCAP safety tests.
Our commitment to safety is at the heart of everything we do and a safer car is just as important as the excitement you experience while driving it. The new CR-V's innovative design, complemented by Honda Sensing™ – a suite of active safety and driver assist technologies – delivers the most comprehensive combination of safety technologies in its class.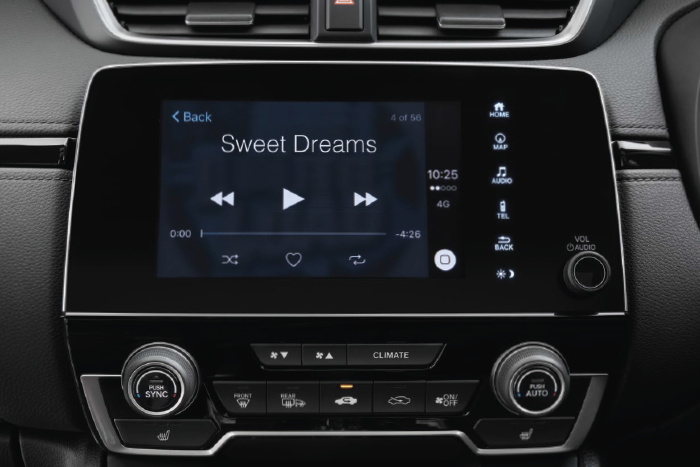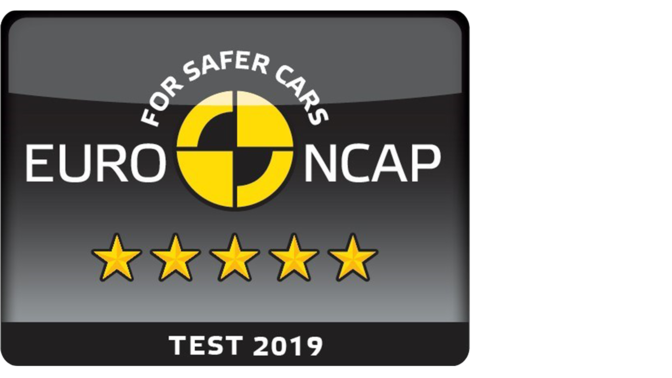 The new Honda CR-V joins the rest of the Honda range tested by Euro NCAP: The Jazz, HR-V and the Civic, in being awarded the maximum five-star score by Euro NCAP.
The WORLD'S Best Selling SUV
The Honda CR-V is the world's most popular SUV.
Sales figures from the world's 54 principal new car markets* show that the Honda CR-V has outsold all rivals since its launch in 2012. In fact, over this period, it has been our best selling model globally. So thanks a million – or three!
Source: JATO Dynamics (Sales period Jan. 2015 – Dec. 2017)
* Markets include: EU + EFTA, NAFTA, China, Japan, Brazil, Russia, India, Indonesia, Australia, Argentina, South Africa, South Korea, Thailand, Vietnam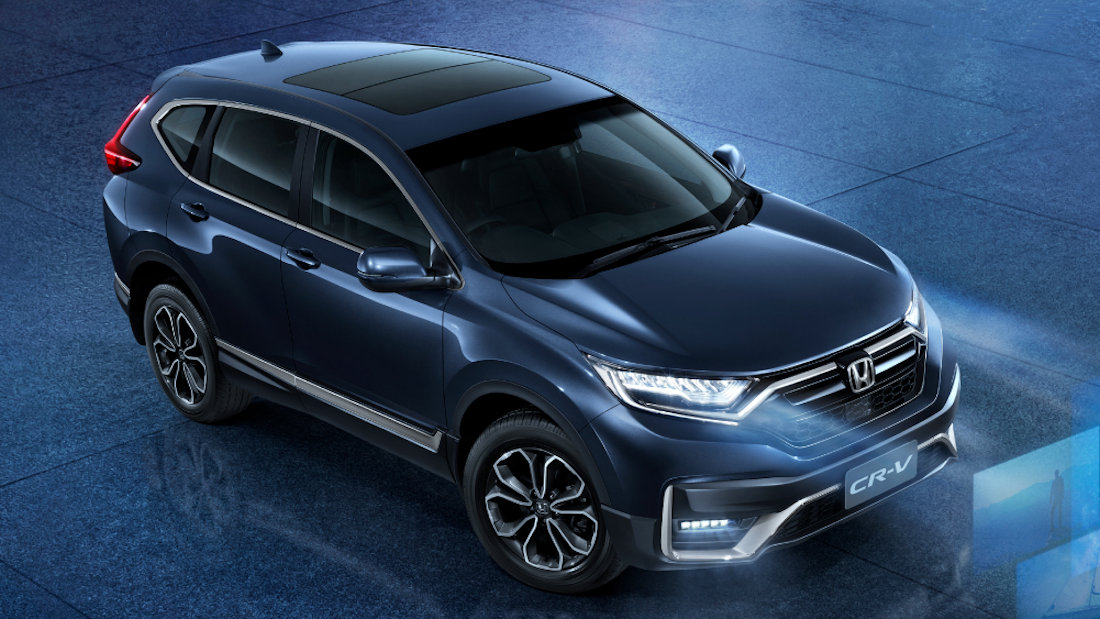 The feel-good factor
An ambience you'll want to experience.
Settle into either our supple leather or the plush fabric seats and you'll know what we mean. It's a feeling that instils a sense of security and comfort. Then take a closer look around the interior and the CR-V will reveal to you many other advanced touches.
Stylish highlights
Eye-catching interior details made from new, modern materials accentuate features such as the air vents, steering wheel trim, door handles and climate control panel.
Console yourself
A versatile centre console has three modes, and when fully open it provides ample space for you to store one or two larger items.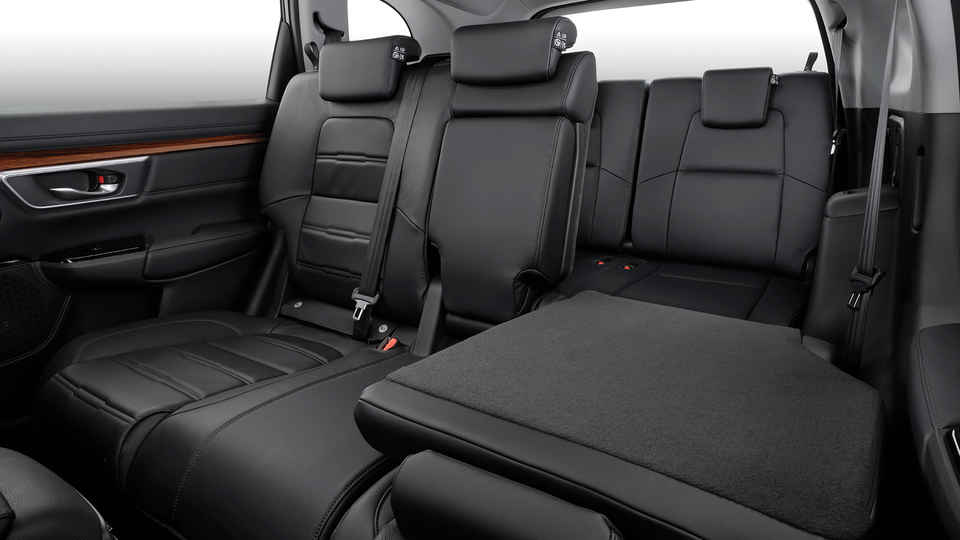 The opening glass roof lets more of the outside world inside as you drive.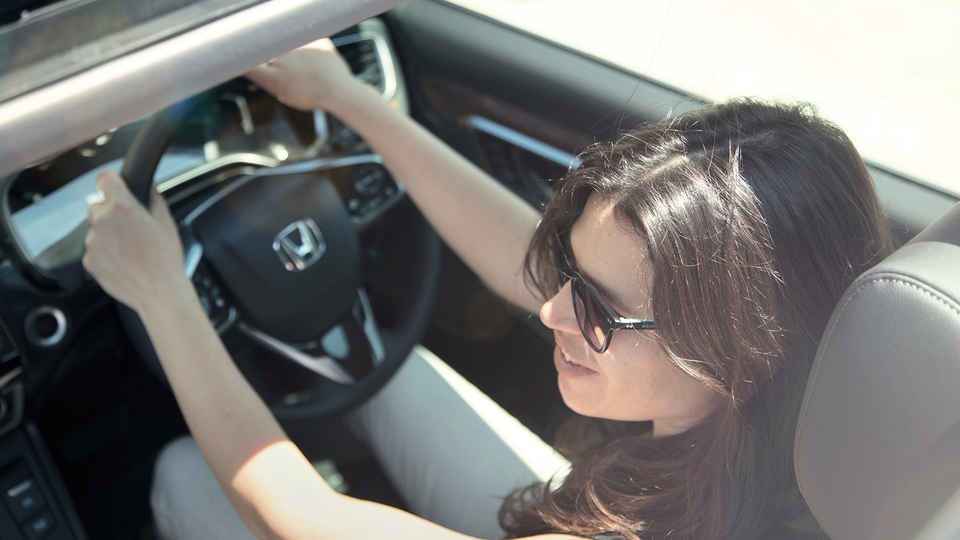 Second row seats fold flat in one-motion with a 60:40 split-fold to increase your load carrying possibilites.
A magnificent seven
The new CR-V keeps its effortless 'one-motion' folding rear seat and also offers the option of a third row, with two extra seats, on selected petrol grades. When not in use the seats fold neatly away - disappearing into the boot floor.
Quality controls
Everything you need is close to hand.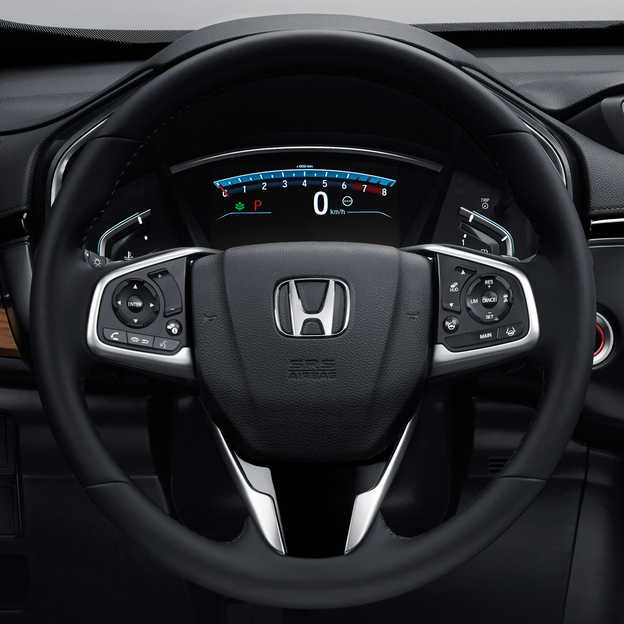 To avoid any potential distractions while driving, simply scroll and select the information you require without taking your hands off the multi-function steering wheel.
A full-colour TFT display provides the driver with essential information, right in front of you. We call it the Driver Information Interface and it presents key data directly to the driver.
On screen
You can easily scroll through the Driver Information Interface using the steering wheel mounted thumb pad, or via voice activation, to choose from a variety of features including: SMS and email display, audio information, phone contacts, AWD status and even smart vehicle maintenance information.
Multi-function steering wheel
In addition to the Driver Information Interface, the steering wheel controls allow you to activate further functions such as the audio volume, the adaptive cruise control and lane keeping system. On the top grade the steering wheel is heated - to banish the winter driving blues.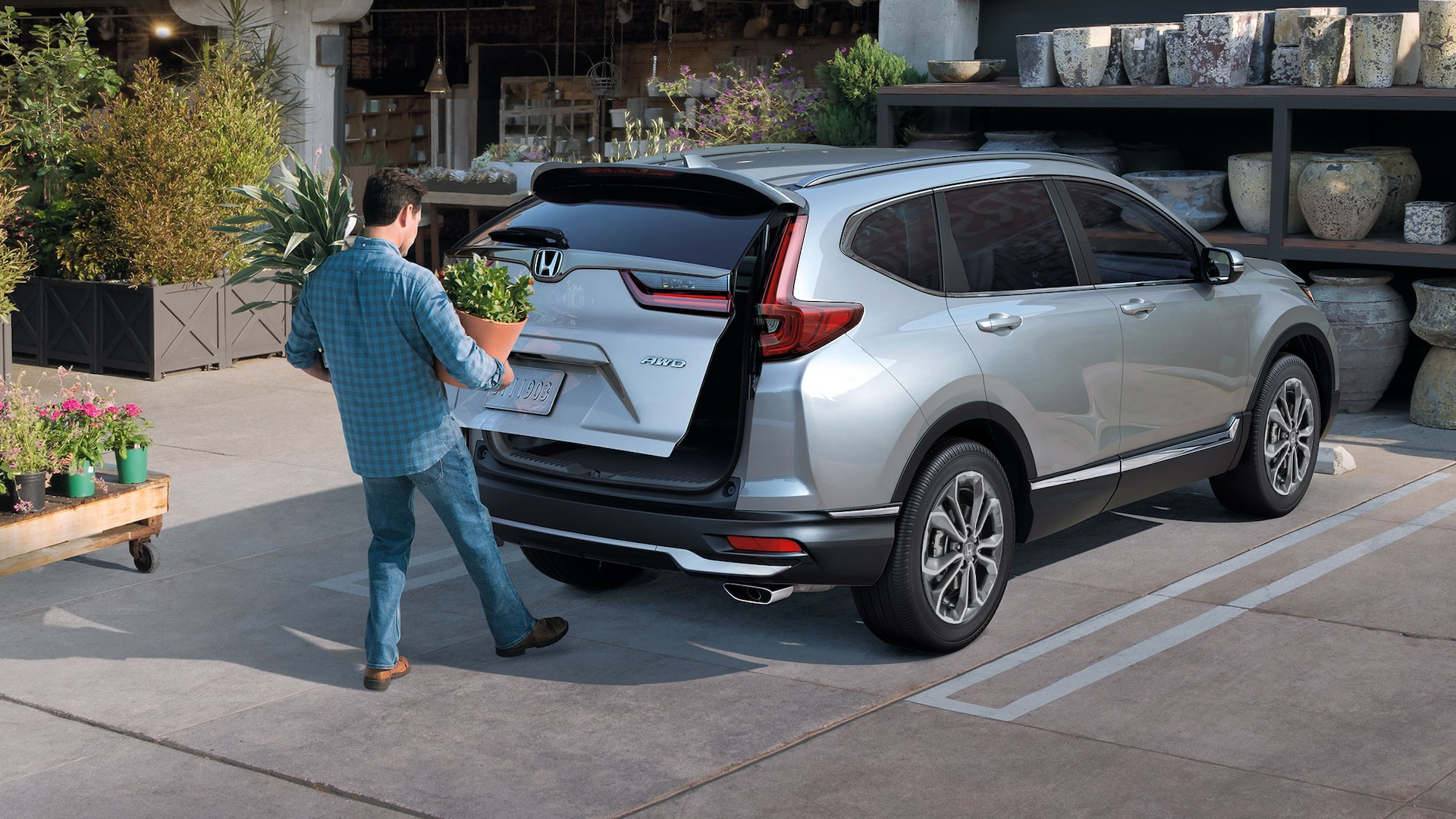 Loading your trunk is now easier than ever with the Hands-Free Power Tailgate of the redesigned CR-V Turbo. When both hands are engaged, Wave your foot under the rear bumper and the trunk will open automatically.
Keep in touch with Honda CONNECT
An infotainment system puts the things you love, like your music and your friends, close to hand.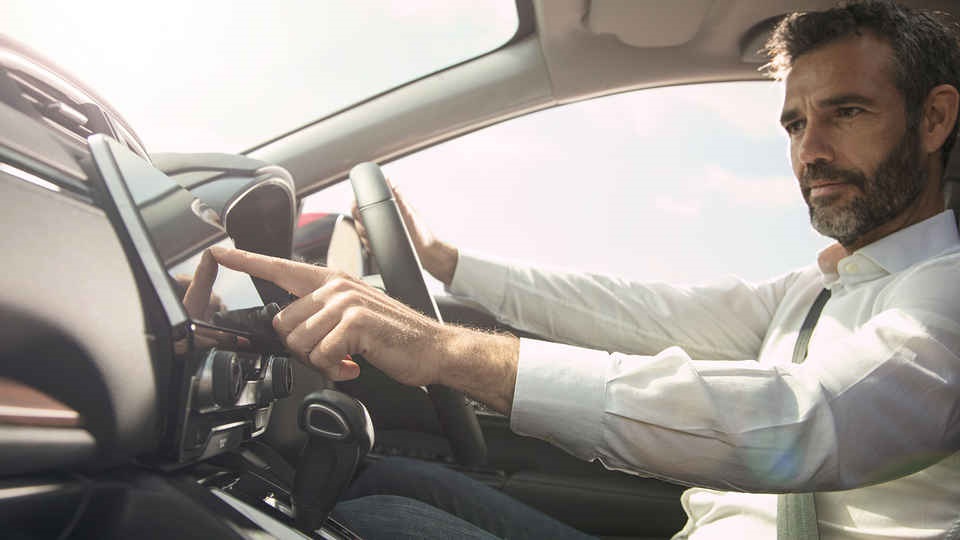 Using Bluetooth® or USB, you can access information and playlists on your smartphone. You can also transfer your phone's interface – via Apple CarPlay® or Android Auto™ – to the 7" touchscreen to access apps allowing you to make calls, and send and receive messages.
More connections
The pre-installed internet-based Aha™ audio player also lets you connect to your favourite music stations, podcasts and news services.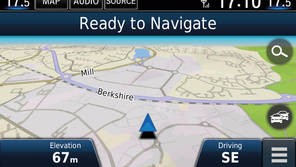 You'll always know where you are, and where you're going, with Garmin navigation.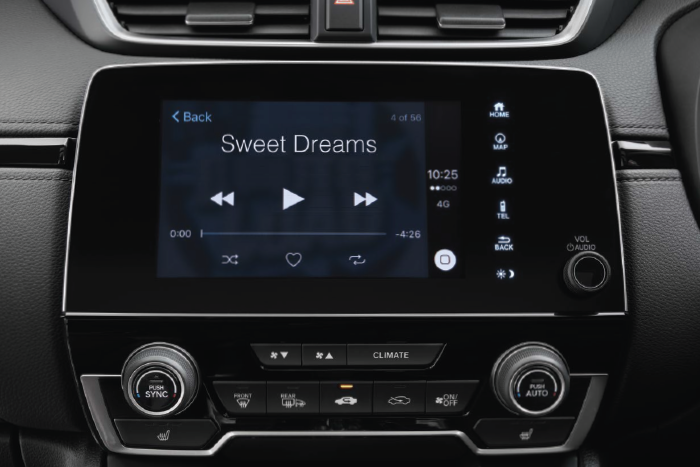 A quick glance is all you need to select one of the clearly displayed icons.